He Chose a Men's Lindberg Frame
with High Quality Lenses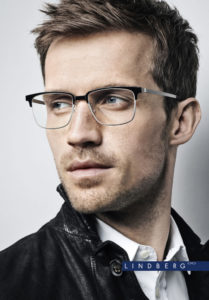 Scott appreciates quality in all things: His German automobiles, smart phones and computers, clothes and shoes, home appliances and materials, golf clubs. And designer eyewear.
While working with Scott to fit his new men's Lindberg frames, I asked him why he likes designer eyeglasses so much. I know why I like them, but I like to know what my clients appreciate in fashion eyewear.
Scott said, "I appreciate quality in all things. I like the feel of well made frames with high quality materials. I need high quality progressive lenses. Really, I just think life is too short to wear cheap glasses."
I couldn't agree more.
Why Men Prefer Designer Eyewear
Every one of our customers has the choice of going to a "buy one, get one free" type eyeglass store. But they come here. Why? As I did with Scott, I ask them because I love knowing why they come see us. Their answers are usually something like…
I love your huge selection of brands and frames!
Designer eyewear feels so good and looks great!
I appreciate your superb customer service and high-quality glasses you make!
Your lenses are the best!
I love the fashion, the style, and the quality!
Scott lives in Arlington TX and has other choices of eyewear optical stores, but he chose us, which I appreciate so much. Many of our clients come from other cities in the DFW area. They all have one thing in common: like me…like Scott… they too love high-end eyeglasses made from the best designer frames and quality lenses.
In other words, they also think "life is too short to wear cheap glasses!" Well said Scott.
Details about Scott's designer eyewear in Arlington TX:
Lindberg Strip Titanium 9800 Frame
Crizal Sapphire 360º UV Lenses
Are you looking for designer eyeglasses in Arlington TX? Come see us!