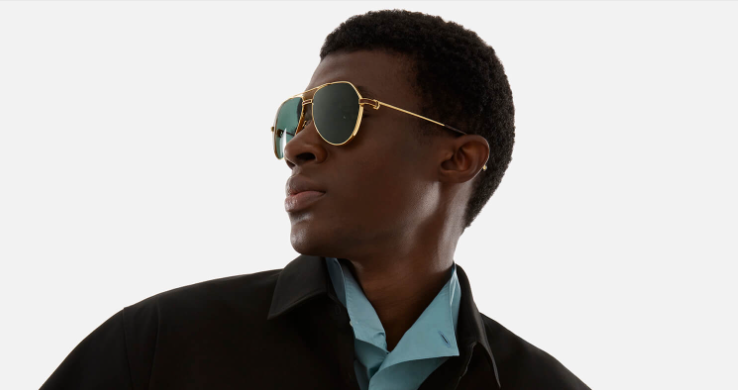 Designer Glasses, Sunglasses & Fashion Eyewear in Azle, TX
Azle TX – Designer Eyewear and Sunglasses, made with high-end frames and top-quality lenses, are our specialty here at Adair Eyewear. In our 40 years of making the best eyeglasses in DFW, we've met lots of people from Azle who also love great glasses.
We're just 30 minutes away, and our Azle clients come here for luxury, high-end eyeglasses and sunglasses. Some come simply because they want the best, like Cartier Eyewear. (See photo)
Convenient For You – Come in and get fitted for your eyeglasses, and we'll ship them to you when they're ready. You make only one trip and get the luxury eyewear you love. Come see us soon!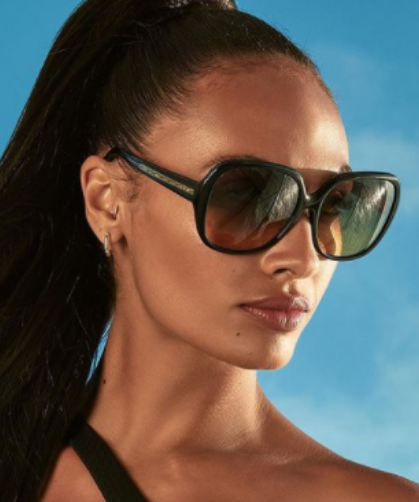 Designer Sunglasses
Cartier, Cazal, DITA, Krewe, & other top brand sunglasses.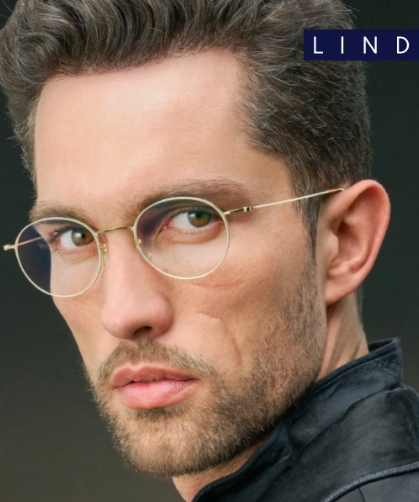 Men's Designer Glasses
From rimless to bold black frames and everything in between.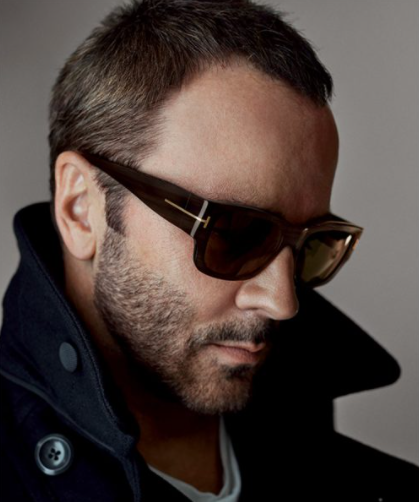 Tom Ford Eyewear
Eyeglasses & sunglasses – bold black frames, prescription sunglasses and more.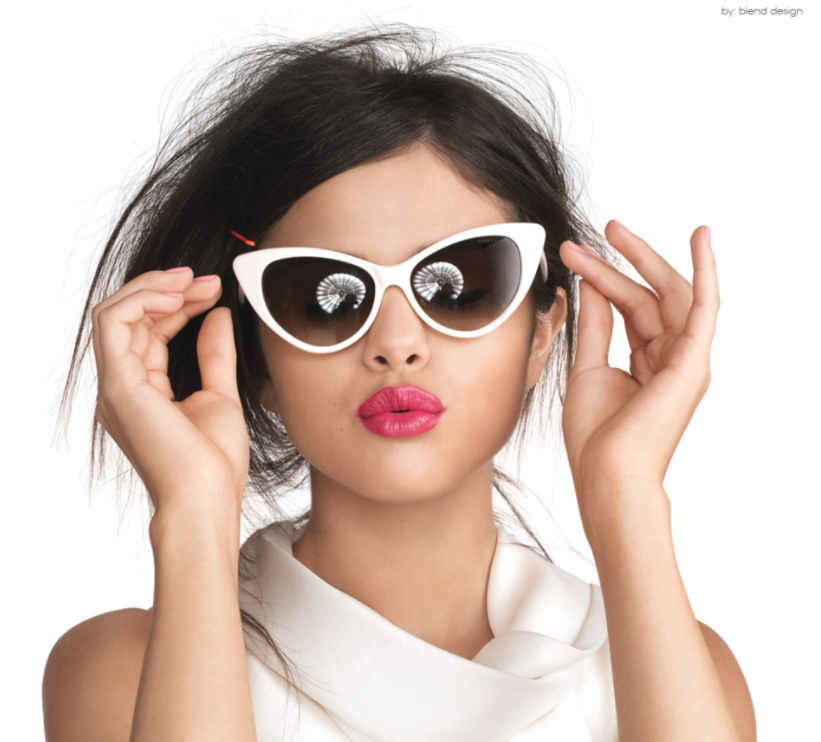 Hello to our Azle customers!
Here's a shout-out to our peeps! You know who you are…Tom Ford eyewear lovers, prescription Oakley and other great sport brand sunglasses for boating, sports, and lots of people just like us who appreciate the look, style and quality of designer eyewear. Come and see us soon!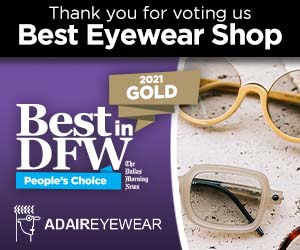 Best Eyeglasses in DFW
We were voted Best Eyewear Shop in DFW! We're grateful to all our customers across the Dallas-Fort Worth area, from McKinney, Plano and Dallas to as far west as Mineral Wells and other North Texas areas that voted in the Dallas Morning News poll.
And we want to thank to all of you in Azle TX who voted for us. We're so proud and humbled to have won.
One client told us, "You're so passionate about eyewear…I love that!" Yes we are. We don't do eye exams, so all our time, effort and passion is dedicated to making the best eyewear possible. It's exciting that people noticed!

Are you looking for some new designer eyewear?
Or maybe top brand sports sunglasses?

Call us today!
Luxury Glasses – Azle TX
Even though we've been making designer glasses for over 40 years, many people don't know we're here. As a recent client said in his five-star review, "Great selection!!! This place is a hidden gem!!"
Even though we've made lots of eyewear for our Azle clients, many residents don't know they can get the same choices as they would in any big city like LA or New York, right here in Fort Worth. And people like those choices too. Pick-up driving men, office-working women, trend-conscious young people and others simply want top-brand designer frames with the best lenses.
Back to the gentleman, we fixed him up with a rimless Cartier frame and a high-quality progressive lens and prescription sunglasses from Serengeti, a great but lesser-known sunglass brand.
What is Designer Eyewear?
Designer eyewear is a phrase that describes a category of eyeglasses a step above what you would get at an economy eyeglass store, where you might get them in an hour, or where "buy one get one free" type offers are common. We're not criticizing those types of optical stores, it's just not what we do. We use the phrase designer eyewear, but out on the streets of Azle, people say designer eyeglasses, fashion designer frames, or may just say, "where did you get those cool glasses?" Adair Eyewear, of course!
Our clients love the feel and look of a well-made frame from a top designer like Cartier, Fred, Lindberg, Tom Ford and many others. They are made with high-end materials, such as titanium, wood, gold. And combined in unique and beautiful ways that make them a pleasure to wear.
Some people like to give themselves a unique style that expresses their personality. A designer frame with a surprising color, an unexpected shape, a rare material, all work together to create a statement that tells others who they are. A business woman may want to show style with a touch of seriousness. She may choose a DIOR frame.
A man may want to add high style while following traditional trends and may choose a Tom Ford or a Lindberg frame. What they both enjoy is the great selection of top brand frames they can choose from here at Adair Eyewear.
Men's Designer Glasses
Speaking of men, they want high-end eyewear as much as women do. They don't think of it as a fashion statement. A financial planner came in for help creating a more professional persona and more serious look. He's not alone. Many men want the best in the same way they want the best tools or the best car or watch. Just don't accuse them of wanting fashion!
Designer Eyeglass Brands You'll Love
A partial list of designer eyeglass frames we offer is Cartier (very popular in Azle), Fred, Lindberg, DIOR, Tom Ford, Moscot, DITA and many others. By the way, as highly experienced opticians, we're here to help you get the perfect frame that's just right for you. And we have many, many frames to choose from to get you the perfect look you want.
Designer Sunglasses – Azle TX
Nothing puts the Texas sun in its place like the luxurious feel of slipping on a great pair of sunglasses. For driving, playing golf, hunting, fishing, taking a walk, a well-made sunglass frame with an excellent lens makes you forget the heat. Well, almost. It's a great start anyway. 🙂
Maui Jim, Ray Ban, Oakley & More…
Every great eyewear brand makes a sunglass frame. Many of our clients like having one pair in the car and another for a specific activity, like golf or fishing. Taking a walk. For those who need progressive lenses, we can design the lens for what you want to do. A pair of sunglasses with progressive lenses, but only a small zone for reading along the bottom edge might be perfect for you. But for fishing, a bigger zone for tying a fly while standing in the river might be better. Of course, you'll need polarized sunglasses for seeing the cutthroat trout swimming by.
Oakley Sunglasses Dealer
Prescription Oakley sunglasses for sports and everyday activities are very popular among men, women and teenagers. Some Azle customers love them for walking, hiking, driving and just walking around.
Others have more specific sports in mind. Golf, cycling/biking, hunting, fishing, baseball, basketball, football…in other words, all sports…are more enjoyable with a specific Oakley frame designed for the sport. We have them made with prescription lenses from Oakley all the time.
Here's more information about Oakley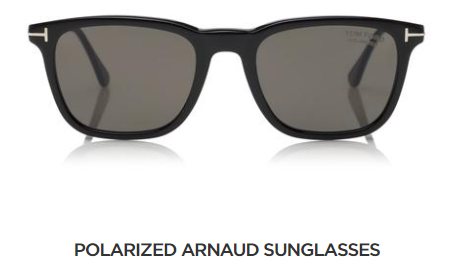 Tom Ford Sunglasses
Classic style and latest fashion come together in every design of Tom Ford Sunglasses. Men like them for quality and function with great looks. Women like them for fashion and style.
A gentleman from Azle came in for prescription Tom Ford, which we also offer, and chose a tortoise frame that looks similar to Wayfarers. He looked great!
Read more about our Tom Ford sunglasses here.
Not Sure If We Have What You Want?
We'd Love to Talk to You About It!

Call Us Now!
A common question is "can you get me prescription sunglasses made by Maui Jim, or Ray-Ban, or Oakley?" The answer is yes. We fit you in the frame you want, then order the lenses from the manufacturer with your prescription specs, then fine tune the fit for you when they arrive. Custom, designer sunglasses, perfect for you and what you need. Easy and wonderful.
Superior Designer Eyeglass Lens Technology
We love talking about lenses. Using our cutting edge equipment to perfectly fit your eyes, your face, your needs, so that you can work at your computer, drive, play, or read while glancing at the television, all with perfect vision. We have all the great coatings too.
Anti-glare, anti-scratch, Blue Light blockers, Ultra Violet, anti-reflective, mirrored and anything else you could possibly want. Essilor has created some amazing coatings like Crizal Advance UV, Crizal Prevencia, Crizal Alize UV, Crizal Easy UV, and of course Crizal Saphire UV. We've got them all and will help you decide which is best for you.
Adair Eyewear FAQ's
WALKINS WELCOME
No appointment, no problem. No need to have prescription with you. Business Hours: Monday-Friday 9am to 6pm | Saturday 10am to 2pm
HEALTH SAVINGS ACCOUNT ACCEPTED
Although we do not accept vision insurance, we do accept all major forms of payment and Health Savings Account (HSAs), Flexible Spending Accounts (FSAs) and Care Credit.
ESSILOR & ZEISS TECHNOLOGIES AVAILABLE
Access to innovative technologies to ensure ultimate in vision, clarity, and protection.
39 YEARS IN BUSINESS | FAMILY OWNED & OPERATED
A long-lasting member of the Forth Worth Chamber Member.
WOMAN & MINORITY OWNED BUSINESS
Certified with Women's Business Enterprise National Council.
OPTICIANS ASSOCIATION OF AMERICA (OAA) MEMBER
The guild of Presentation Opticians (Guild) is governed by a code of ethics that requires it's members to maintain the highest level of professional opticianry, thereby protecting the consumer's interests.
From Azle to Adair Eyewear
An easy route from Azle is to hop 199/Lake Worth Blvd.
Lake Worth Blvd will become Jacksboro Highway. Continue to University Blvd. and go south to West 6th Street and turn right.
Turn left on Arch Adams and go to West 7th Street and turn right.
Follow West 7th St. two blocks to Adair Eyewear. Easy!
Adair Eyewear
3550 W 7th St
Fort Worth, TX 76107
Come see us!
We're located near the museum and entertainment district in Fort Worth. That's just west of downtown, on 7th Street. If you know where the big intersection of University and 7th is, you're almost there. Just up the hill as 7th Street fades into the historic areas of Fort Worth.
You may want to come here, then grab lunch and even visit the Kimball or Modern Museums. Or maybe some bbq is enough to make it a great day.
We look forward to seeing you here!
Alyce Adair Jones and Robert Perez