Our customers come from all over the Dallas-Fort Worth Metroplex and all surrounding cities. Some come from other parts of Texas and other states. We are proud to serve them and look forward to creating the very best in high-end eyewear to improve their lives in big and small ways.
Too Far For You? No Problem…
…we can ship your eyewear to you! We do it all the time. Some clients don't even live that far away but would rather we ship their finished eyeglasses to them.
Read more about our Fit & Ship eyewear delivery plans here.
And let us know how we can help you!
Popular Requests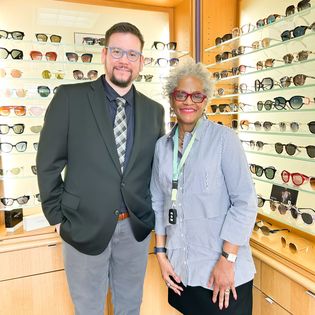 Come see us!
We're located near the museum and entertainment district in Fort Worth. That's just west of downtown, on 7th Street. If you know where the big intersection of University and 7th is, you're almost there. Just up the hill as 7th Street fades into the historic areas of Fort Worth.
You may want to come here, then grab lunch and even visit the Kimball or Modern Museums. Or maybe some bbq is enough to make it a great day.
We look forward to seeing you here!
Alyce Adair Jones and Robert Perez
Driving Directions to Adair Eyewear
Here are easy driving directions, right to our boutique.